Kochi Ken, the brave wolfdog is on a mission to innovate
and maximize the potential of tokens & NFTs.
Kochi's new TriFi Tokenomics shares 50% utility
revenue with KOCHI token stakers.
Kochi Ken, the brave wolfdog is on a mission to innovate and maximize the potential of tokens & NFTs. Kochi's new TriFi Tokenomics shares 50% utility revenue with KOCHI token stakers.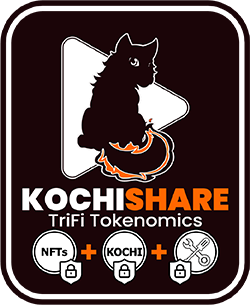 We coined the term "TriFi" to describe the three primary functions of Kochi Ken's ecosystem – revenue sharing utilities, NFTs with utilities, and a memecoin. This groundbreaking revenue sharing model enables the Kochi Pack the opportunity to earn passive income from the success of our products and KOCHI's token value.
KOCHI is the fuel to the TriFi Kochi Ken ecosystem and your ticket to joining the Kochi Pack. Each token represents a share – the more KOCHI you stake, the higher your USDT dividends will be.
KOCHI token stakers share 50% of Kochi's ecosystem revenue. Both KOCHI token & NFT stakers will also be granted raffle tickets to win upcoming KochiPad presale whitelists and access future real-time DeFi analytics.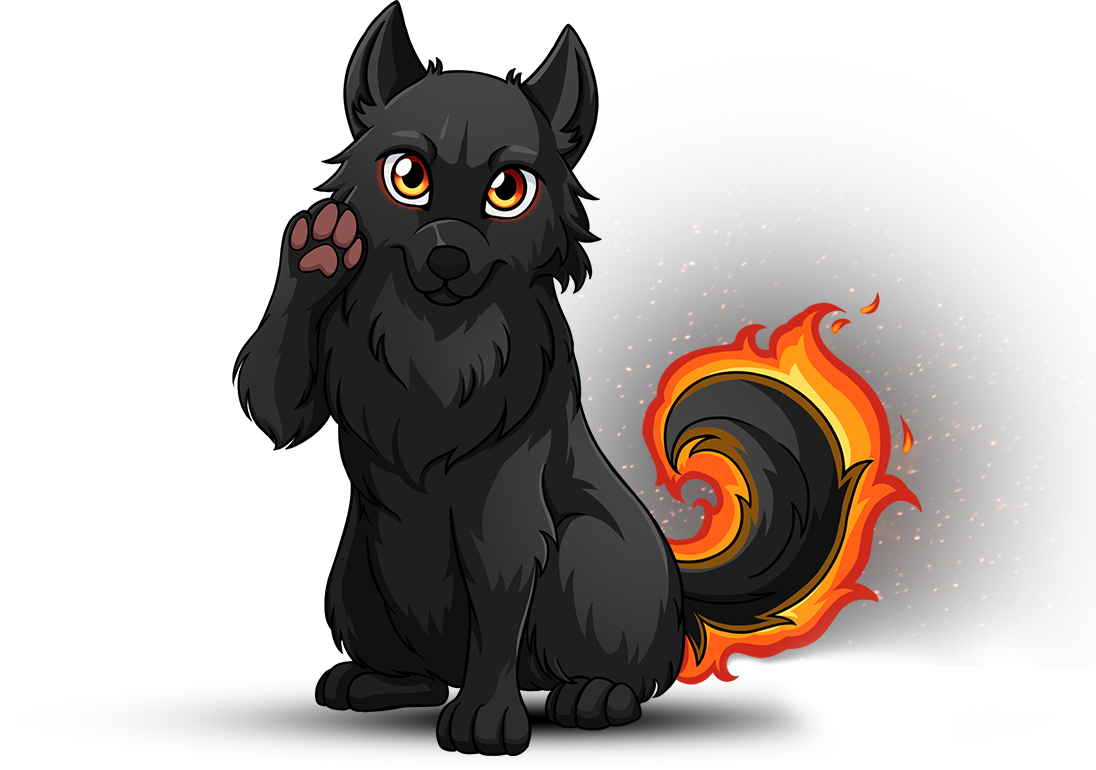 We envision a world where all members of an ecosystem, regardless of the size of their wallet, can benefit from the revenue that the project generates. 
Kochi Ken is not a "flash in the pan" project and has been in development for the best part of a year. We have sought to create solutions to unsolved problems, whilst improving Dapps & software that already exist.
A project is only as strong as its community and our community will drive the project forward. Our products will thrive and become stalwarts in the crypto space, so why wouldn't our community members be rewarded?
Nothing makes us happier than knowing our project will directly benefit our investors and provide additional income to stakers.
We're on a constant quest for innovation in an industry that's lacking in it. With the power of a driven community and beneficiaries to all income generated, we have no doubt that Kochi Ken will be central to tailblazing a paradigm shift.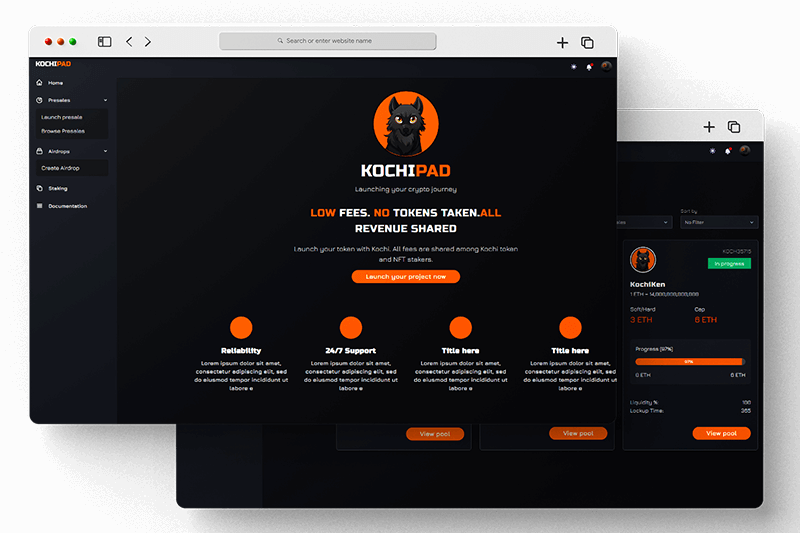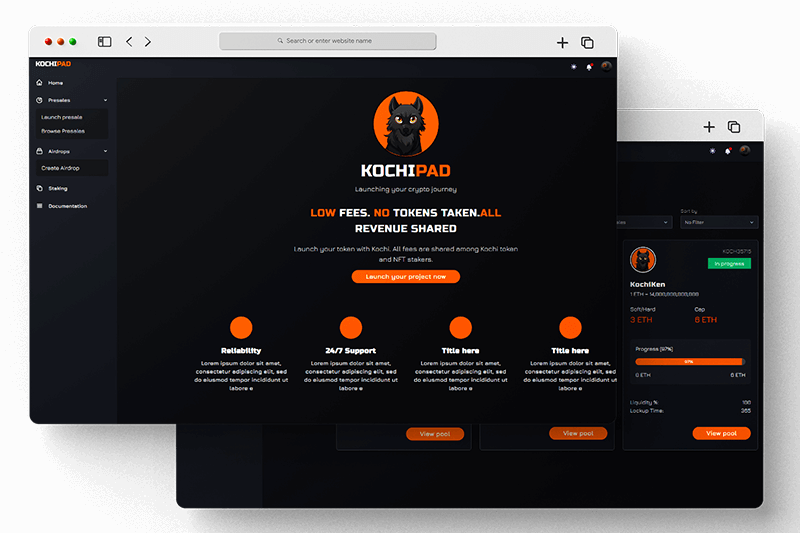 KochiPad, our flagship product, allows token projects to host presales on our platform with a very advantageous fee structure of not collecting tokens. This means we can't negatively impact the chart through profit taking. Our business model is all about sharing. Out of all the fees collected, 50% will be going towards the team and 50% to Kochi token stakers.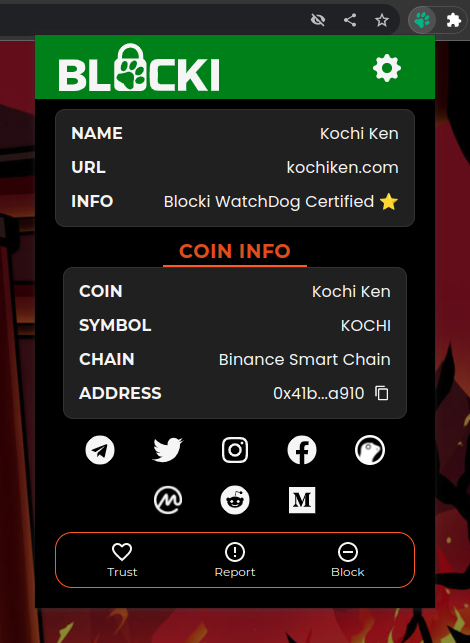 Blocki is a free Chrome, Brave, & Firefox web brower extension that protects you from crypto scam websites that steal your coins. When investors mint NFTs on scam websites they could either get their wallet swiped or mint a fake, worthless contract that robs your wallet. Blocki fights crypto scamming sites with a simple, multi-color paw icon system that alerts you when the website you're on is about to rekt you.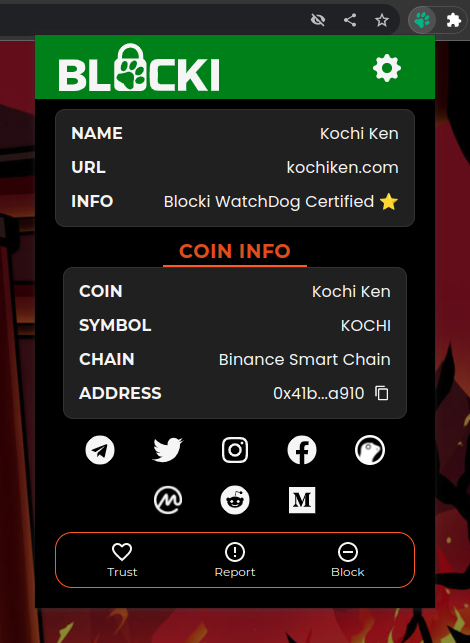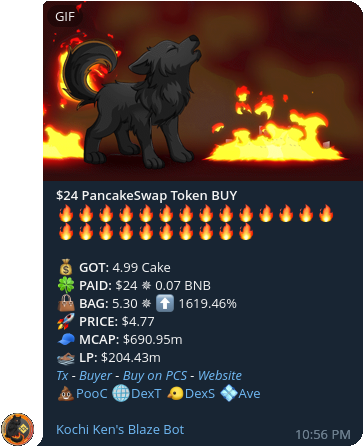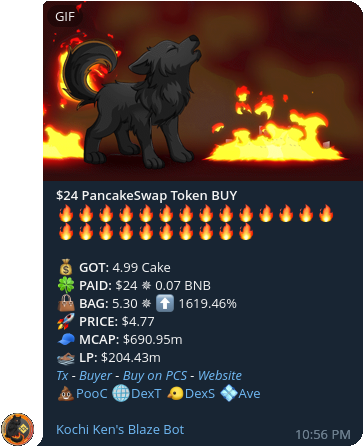 Show off your token's bullish buys with our custom-coded & customizable "Blaze Bot" Telegram buy bot. Our freemium buy bot was made with Kochi's "Super Boost" fast data-fetching tech & has unique features including gif rotation, extra chart links, amount of tokens the buyer has, & more.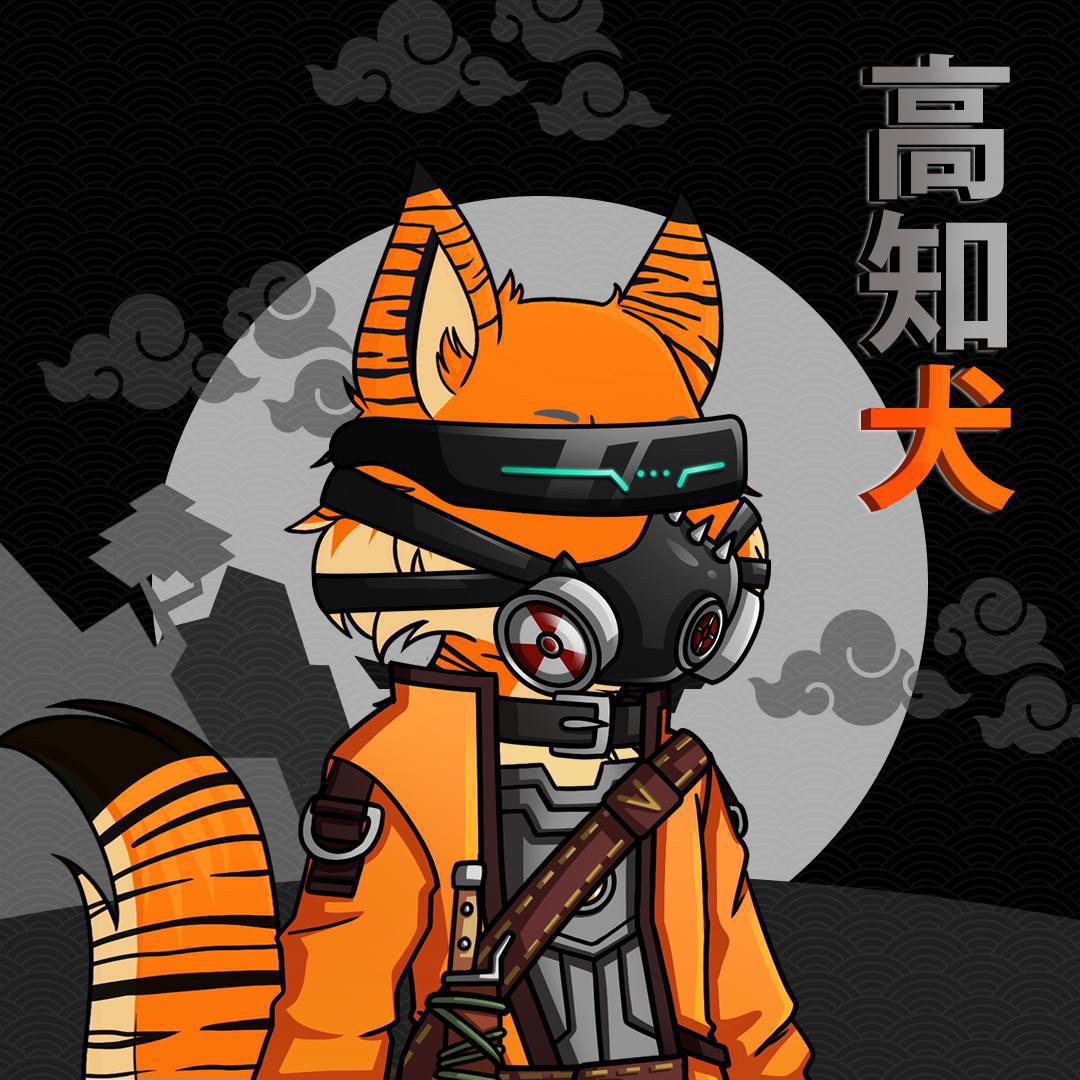 Join the Kochi Pack by grabbing "Kochi Collective" NFTs in 2023. Simply stake your Kochi NFTs on our Kochipad Platform to receive amazing perks including being entered into raffles to win Tier 0 whitelists for upcoming KochiPad presales. A team of artists designed these special Genesis NFTs with 7 unique traits including different utility properties. Join our chat rooms and newsletter today to win a whitelist spot!
4% TAX
BUY, SELL & TRANSFER
10% & 5%

---
Giveaways & Ecosystem

Create a MetaMask Wallet
Create a MetaMask wallet here using either a desktop computer or an iOS/Android mobile device. MetaMask will allow you to buy, sell, send, and receive KOCHI tokens
Send USDT to Your Wallet
Transfer USDT to your MetaMask wallet from exchanges like Coinbase, Bitmart, Binance, Kucoin, etc. Make sure your USDT is on the Binance Smart Chain (BSC)
Convert Your USDT to KOCHI
Press "Select Token" on PancakeSwap and add the KOCHI contract address: 0x41b2F7acc00035F9b1cec868B5054a6238C0a910. Next, change the slippage to at least 5%, press swap, and approve the transaction in your MetaMask wallet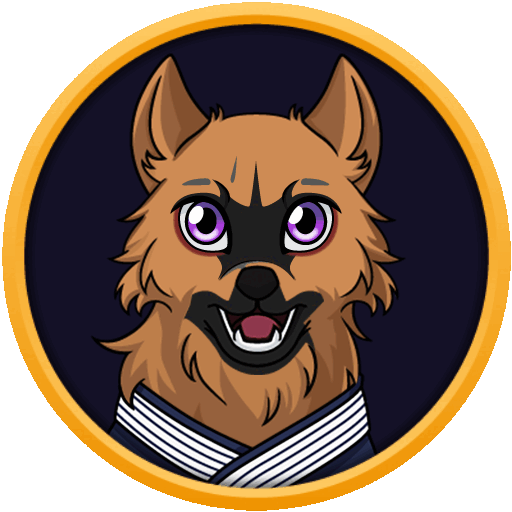 Easily create your own Kochi avatar with our profile pic generator
Choose from over 100 options and 5,000,000 combinations to create your own one-of-a-kind, personalized Kochi avatar. Win KochiPad whitelist giveaways and more by using your avatar as your profile picture on your socials and Telegram
What are the KOCHI token's taxes?
The buy, sell, and wallet transfer taxes are 4%:
3% Marketing
1% Development
0% Liquidity Pool
Where can I buy KOCHI tokens?
You can buy KOCHI on PancakeSwap here. The KOCHI token contract address is: 0x41b2F7acc00035F9b1cec868B5054a6238C0a910
You can buy BEP20 USDT on most centralized exchanges such as Binance, Kucoin, Bitmart, ByBit, etc. and send it over to your MetaMask wallet to buy KOCHI.
Are the KochiPad contracts and KOCHI token audited?
CertiK audited KochiPad's 5 contracts and our KOCHI token's contract. View our CertiK audit here.
How can I make sure I don't get scammed by fake contracts?
Make sure you're always visiting the correct website. No one from our team will ever message you first on Telegram or Discord.
The KOCHI contract address is: 0x41b2F7acc00035F9b1cec868B5054a6238C0a910
Join Our Newsletter
To Access